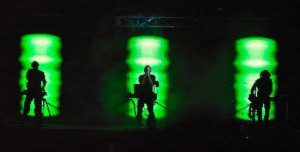 okay, cool, so far nobody really knows what's going on in the NIN universe…
Trent was thinking about realizing a live action tv series to Year Zeo,
a new and ultimative nin.com is upcoming, the Spiral closes down and
merging with nin.com – and just yesterday NIN officially released a new
single via radio in the US!
not this pseudo-Post-Rock-thingie from
Ghosts I-IV, but a REAL song. i just downloaded it and heared to it
once (available at nin.com, to download just like Ghosts I).
well it's nothing special, just sounds like NIN does for 2 years now. quite good though.
it starts with a kinda 'missed' cue, taking breath, and Trent starting
to sing the next line – but we already had this in "Vessel", so it's
not new. it also shares electric elements alike Vessel (or the typical
NIN from today…). and it's kind of 'reputative' (with echoes and
stuff), what i personally dislike. but besides that it's quite a good
song.
and with this Trent throws a bunch of 'pseudo-facts' at us
fans and teasing us with the word "soon" (he mentions that directly,
that we "love that word" (src: nin.com))…
so we're talking about may 5th.
on
this dat SOMETHING will happen. most people say this will be the actual
launch date for the new web page, but it's kinda strange that Trent
does not really say that this way…
and to fullfill your beloved conspiracy senses here is what i just realized:
there is something about the number 5. something fishy.
may the 5th. or: 5.5.!
the favicon (!!) of the download page does say "5P5". this could just be a gentle hint to what ever happens then, but what does the "P" stand for?
and then there is this strange picture embedded in the downloadable mp3 of "Discipline" that shows us 5 squares! check it out here:
img168.imageshack.us/img168/3366/73015206ri5.png
so…
i
personally don't think they release a completly new album – they just
haven't had the time to create one. but it WILL be more than just a new
web site. and the song "Discipline" is just a pure hint to the upcoming
'event'.
maybe it's a release of a mini album with 5 tracks – a mini
album (no remixes, original content) would be something completly new
within the NIN universe…
we will see, i'm quite excited about all…
download the song here:
dl.nin.com/discipline/nin

tags:
discipline
,
download
,
nin

last modified: 2010-Nov-26, 23:04:00

short link
|

perma link
|

comment feed
---