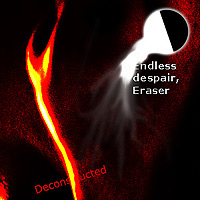 Deconstructed: Endless despair, Eraser
okay, i finally finished the work for the second volume of my Deconstructed series.
this one should have been out last christmas, but somehow i couldn't finish it till now.
like the first volume this one also consists of 10 double sided pages
(so 20 at all) plus some front and back cover pages. you can download
the high compressed version in a 2.73MB PDF file from my page.
the main difference in the one is a greater focus on text layout.
download here: http://doctrinedesigns.de/?r=downloads#deconstructed
the Deconstructed series was originally planned to be a set of 3
booklets… i still want to reach this goal, but actually i'm out of
ideas for a next volume. i'll start someday when i created a concept
for it (and textes maybe).

tags:
booklet
,
deconstructed
,
doctrinedesigns
,
download
,
grunge

last modified: 2010-Nov-26, 23:14:38

short link
|

perma link
|

comment feed
---