introducing: the sweet melancholy – Seal of Approval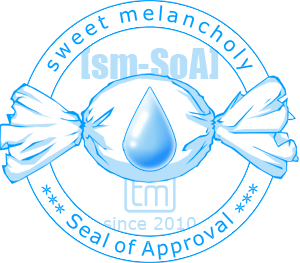 i hereby announce a new segment i am willing to do on a regular basis (about once a month?) which i call sweet melancholy – Seal of Approval, or in short sm-SoA, in which i review, recap, inform, talk about or do a retrospective about ANYthing that in my opinion deserves the seal!
this can by literally everything, from a band or song, a movie, book or comic, over an artist, a piece of art, poem, scientific topic or philosophic opinion, to video games, my toe nails or the tv series i am recently watching – and so on!
so basically it will always be something that i want to introduce to you, the reader.
as you may have guessed it has to be of a certain… em… "kind" of media. you know, the romantically depressive type. the beautiful melancholy. the warm gloom. kinda like that, you get the point.
when i review something which deserves the seal, i will label it with [sm-SoA] and an image of the seal, so you will know why i wrote this article, which you are about to read.
i hope you like that idea.
i will start with a recapitulation about the band "Stabbing Westward", which i will release by tomorrow (plus/minus one day).
signing out.

tags:
sm-soa

last modified: 2010-Nov-29, 18:46:53

short link
|

perma link
|

comment feed
---