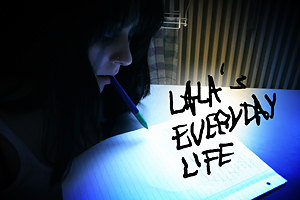 my new illustration booklet is out now!
and no, it's not 'Deconstructed' part 2, i had to finish this one
first, as it's for my qualifying examinations for the Fachhochschule
Dortmund.
they gave me two exercices to solve, and one of it had the topic "A day in the life of…"
and what i made out of it became: Lala's Everday Life!
so, what do you have to expect?
i did this work as an hommage to one of my favorite web comics: Nana's Everyday Life
it's about one day in the life of my fictional character 'Lala',
referencing Nana of course. and she's disabled. she doesn't have any
limbs.
yeah, kinda offending, i know, but i didn't mean to. if you
feel offended or shit like that, than do so, but it's not intended to
be so.
actually i saw a great challenge in 'photoshopping' the
'limb-stumps' – wanted to do such a project for quite a long time now.
so, here it finally is.
the final work is a 9-sided PDF file in DIN-A4, featuring m.s. as Lala (thanks for being the only one i asked who felt no moral resistances in being the model for that!)
more detailed information for the PDF in the download section of Doctrine Designs:
http://doctrinedesigns.de/?lang=eng&r=downloads
or try the direct download here:
http://doctrinedesigns.de/downloads/lalas-everyday-life.pdf
thank you for being interessted!
(i guess you are, because you're reading this sentence *g*)

tags:
booklet
,
doctrinedesigns
,
download
,
lala

last modified: 2010-Nov-26, 22:41:01

short link
|

perma link
|

comment feed
---